Marinos Koutsomichalis & Z'EV: 'Ramifications' (14)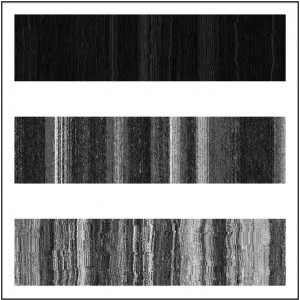 Ramifications is the result of a collaboration between Z'EV and Marinos Koutsomichalis. The work comprises of Organ recordings (employing the Sir Jack Lyons Concert Hall Organ in York) which have been time-stretched and digitally processed in a various ways before they have been finally diffused and re-recorded in A.S. Rymer Auditorium using 5 Genelec 1038B loudspeakers, a Genelec 7060B subwoofer, and a pair of Neumann KM184 microphones.
1st edition of 100 copies (December 2014): DVD-R in black envelope, housed in custom made carton sleeve with card insert.
Cover artwork and design: Antonis Kalagkatsis
SOLD OUT
__________________________
Marinos Koutsomichalis (Athens, 1981) is an artist and researcher. Via sound and a wide range of other media he interrogates the specifics of site, perception, technology and material. His work has been widely presented internationally in museums, galleries, festivals, music halls, academies, industrial sites, churches, research institutions, conferences, underground venues, scientific journals, independent music labels, and elsewhere.
marinoskoutsomichalis.com
Z'EV is a conceptual artist, poet and sound sculptor. After studying at CalArts with concrete Poet Emmett Williams he concentrated on producing visual and sound poetries, and was included in the "Second Generation" show at the Museum of Conceptual Art in San Francisco in 1975. He has been one of the progenitors of the 'industrial movement' since the end of the 1970's, through his work with catacoustic (reflected sound-based) metal percussion.
rhythmajik.com