M. Koutsomichalis 'Peripatetic' (02)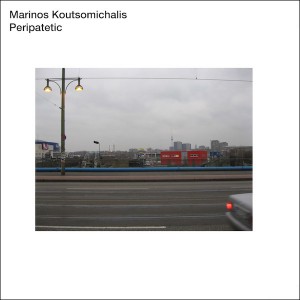 Peripatetic. adjective. 1. Travelling from place to place, esp working or based on various places for relatively short periods. 2. with reference to the Aristotle' s practice of walking to and fro while teaching.
Peripatetic consists entirely of unprocessed cityscape recordings, interrogating this way the musicality of everyday sounds by means of ambulatory recording practices.
1st edition of 180 copies (November 2009): cdr, carton sleeve, plastic envelope.
SOLD OUT
____________________
"This is a unique study in the composition of the sounds we listen to daily." (Viktorya Kaufholz – Musique Machine)
"To be listened to with eyes shut." (Fondas Troussas – DiscMine)
"Personally I love it." (Ian Holloway – Wonderful Wooden Reasons)
"A cryptic travelogue." (The One True Dead Angel)