Marc Behrens 'Apparatus' (08)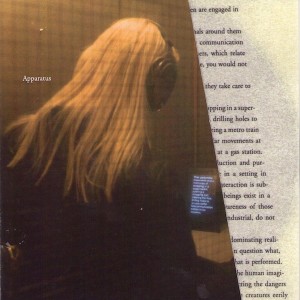 Originally a four-channel sound installation (two channels via open headphones, two via ceiling speakers) presented May 28 – June 10, 2010 as 9/12 in the 'Phonebox' series at IMO, Copenhagen, Denmark.  'Apparatus' was composed April-May 2010, using basic sound material recorded 2005-2010 in Austria, Brazil, Germany, Italy, Namibia and South Africa.
1st edition of 150 copies (October 2011): printed cdr, carton sleeve, vellum inlet, plastic envelope.
SOLD OUT
____________________
"Tout simplement excellent !" (Jerome Noetinger – Metamkine)
"From therapeutic/organic to dis-junctive/phony, like some sort of animatronic backdrop." (Animal Psi)
"It marks an interesting break [..] and is by no means a lesser work for him. If this is something of a new direction, I'd be keen to hear more." (Frans De Waard Vital Weekly)