Strom Varx 'A Cogent Heavy High-Technology Works Since Strom Varx' (11)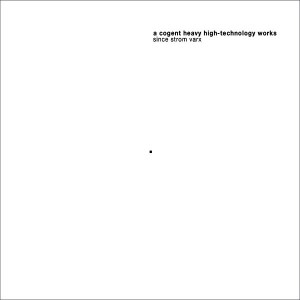 With A Cogent Heavy High-Technology Works Paris-based artist Strom Varx continues his research into seismic noise dynamics and delicate stillness, unleashing over 60 minutes of digital craftsmanship. In his own words "the result is a kind of electronic music that is perennial, futuristic, sensible, provocative and profoundly romantic; music that does not fit to any particular groupings". Fragments of Karkowskian aggression encounter sections that bring to mind Kevin Drumm's latest efforts in quietness.
1st edition of 100 copies (June 2014): black cd-r in black envelope, housed in custom made carton sleeves.
SOLD OUT
__________________________
Strom Varx is a composer, artistic director, photographer, designer and producer based in Paris. Since 2005, he has been presenting and developing his work in variable contexts in France and in Europe: Palais de Tokyo, Théâtre de l'Odéon, Nuit Blanche Paris, Le Fresnoy, Arte Radio… He has shared the stage with Merzbow, Eliane Radigue, Sunn O))), Gert-Jan Prins, The Hafler Trio, Mika Vainio, Thomas Köner, Wolf Eyes, Kouhei Matsunaga, Oren Ambarchi, Richards Pinhas, KK.Null and others. He has collaborated with Otomo Yoshihide, Kasper T. Toeplitz and Zbigniew Karkowski. In addition to his artistic practices, Strom Varx also rages as a cultural activist in Paris under the label of his creative studio imagenumérique™.